Power Pac PLUS
ForYou's Power Pac PLUS provides three essential products, Honey Bee Pollen, Chlorella, and J-Genics, to ENERGIZE and DETOXIFY the body as well as aid in IMMUNE SUPPORT and ALLERGY RELIEF. PLUS, J-Genics brings many, many more benefits to the body. Benefits such as:
helps to rejuvenate the entire body
provides natural resistance to stress
allows the body to work better and stronger without working harder
hailed as the "longevity herb"
For more information about each of these products, refer to each individual product on the website.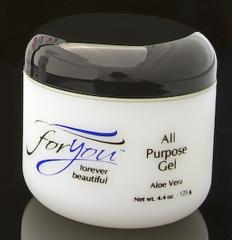 All Purpose Gel
With Aloe Vera, the World's Greatest Healing Property
An essential first aide product for the entire family from infant to the eldest.
A unique blend of aloe vera and other rare healing herbs.
The answer for insect bites, rashes, burns (all kinds), cuts, scrapes, chapped hands, calloused and cracked hands and feet, even bed sores.
Reported to have cleared or prevented diaper rash in approximately 99% of the cases.
---
What Others Are Saying...
"I can't say enough about this product. I use it for just about everything...insect bites, cuts, burns, rashes, and dry skin!" KS - Bermuda
"This product should be in every home in the world!!!" SE - Tennessee
"After the first application, I could see a big difference even after I took a shower." BM - South Carolina


EEZ-IT Quick Topical Balm Oil
With Ten (10) Pain Relieving Oils
Fast relief for arthritic joints, muscle pain, back pain, neck pain, and sports injuries.
Immediately goes to the source of pain.
Lubricates and feeds stiff, sore, swollen joints and muscles.
All natural herbal oils.
You can apply wet heat for even greater benefits.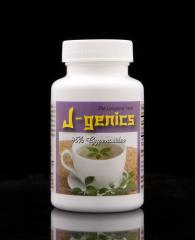 J-genics
The Longevity Formula
Known in China as the "Immortality Herb" and in the US as the "Miracle Herb", Jioagulan is hailed as the LONGEVITY HERB.
In certain providences in China, demographers noticed an unusual concentration of people over 100 years of age. After researching this phenomenon, Dr. Jialiu Liu, the "Father of Jiaogulan" and the leading Jiaogulan researcher in the world, found a common factor among these centenarians was a high daily consumption of tea made from Jiaogulan.
Jiaogulan is in a rare class of herbs called adaptogens that:
help to rejuvenate the entire body,
provide natural resistance to stress, and
allow your body to work better and stronger without working harder.
Jiaogulan supports vital body systems including the cardiovascular, digestive, immune, nervous, dermatologic, respiratory, and reproductive systems and helps protect the body's organs from excessive damage. Jiaogulan has a tremendous effect on the central nervous system, both calming and at the same time helping maintain clarity and alertness without nervous tension. The overall result is wonderfully empowering as your mind can stay alert and sharp while you remain "cool as a cucumber" even under mounting stress.Fo-ti, another ingredient found in J-genics, is used to strengthen the blood, invigorate the liver and kidneys, and supplement vital energy. Modern research indicates that this herb contains an alkaloid that has rejuvenating effects on the nerves, brain cells, endocrine glands, adrenal gland, and helps to detoxify the body.
Great Support For:
Anti-Aging, increased Brain Function, Insomnia, Lowering Cholesterol,
Anti-Obesity, Anti-Inflammatory, Decrease Anxiety, and Strengthens Immune System.
Ingredients: 60 capsules per bottle
Jiaogulan Gynostemma pentaphyllum, Fo-Ti