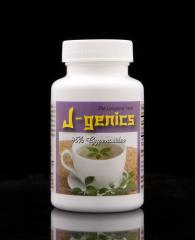 Price: $56.00
The Longevity Formula
Known in China as the "Immortality Herb" and in the US as the "Miracle Herb", Jioagulan is hailed as the LONGEVITY HERB.
In certain providences in China, demographers noticed an unusual concentration of people over 100 years of age. After researching this phenomenon, Dr. Jialiu Liu, the "Father of Jiaogulan" and the leading Jiaogulan researcher in the world, found a common factor among these centenarians was a high daily consumption of tea made from Jiaogulan.
Jiaogulan is in a rare class of herbs called adaptogens that:
help to rejuvenate the entire body,
provide natural resistance to stress, and
allow your body to work better and stronger without working harder.
Jiaogulan supports vital body systems including the cardiovascular, digestive, immune, nervous, dermatologic, respiratory, and reproductive systems and helps protect the body's organs from excessive damage. Jiaogulan has a tremendous effect on the central nervous system, both calming and at the same time helping maintain clarity and alertness without nervous tension. The overall result is wonderfully empowering as your mind can stay alert and sharp while you remain "cool as a cucumber" even under mounting stress.Fo-ti, another ingredient found in J-genics, is used to strengthen the blood, invigorate the liver and kidneys, and supplement vital energy. Modern research indicates that this herb contains an alkaloid that has rejuvenating effects on the nerves, brain cells, endocrine glands, adrenal gland, and helps to detoxify the body.
Great Support For:
Anti-Aging, increased Brain Function, Insomnia, Lowering Cholesterol,
Anti-Obesity, Anti-Inflammatory, Decrease Anxiety, and Strengthens Immune System.
Ingredients: 60 capsules per bottle
Jiaogulan Gynostemma pentaphyllum, Fo-Ti